Weather Forecast for Abergavenny
For the Brecon Beacons Met Office forecast Click Here
| | | | | |
| --- | --- | --- | --- | --- |
| A Challenge Walk - Designed To Test Endurance And Map Reading Skills | | | | We're trialing a new version of the websiteClick Here to view the website. Click Here to let us know what you think! |
Three Peaks Trial 30th March 2019 - Thank You!
A HUGE !!!THANK YOU!!!! from all at CARDIFF OUTDOOR GROUP to:
LONGTOWN MOUNTAIN RESCUE TEAM - for marshalling all the mountain top checkpoints.
All the 832 Walkers who took part in this year's Three Peaks Trial.
The ST DAVIDS HOSPICE FOUNDATION and COUNCILLOR NICK TATUM of Abergavenny Town Council who helped in a number of roles throughout the day.
On Silver and Bronze Routes, FABIAN4/RACETEK who provided Registration support and on-the-day etag system.
Rees Travel who provided buses on Platinum Route.
The charities and fundraisers who supported the event:
Event Top Achievements:
Probably the achievement of the event goes to Ian Waddell, 81, who despite having his knees and hips replaced and suffering acute pain from severe osteoarthritis successfully completed the Platinum Route
As described in the the Abergavenny Chronicle feature , Ian was assisted by a team of three supporters and he started the epic challenge at midnight 0:00hrs on 30th March reaching the Scout Hall by the event closing time of 7:30pm. In the process Ian has raised over £400 for the children's hospice Ty Hafan (you can still donate at JUST GIVING - CLICK HERE . A fantastic achievement!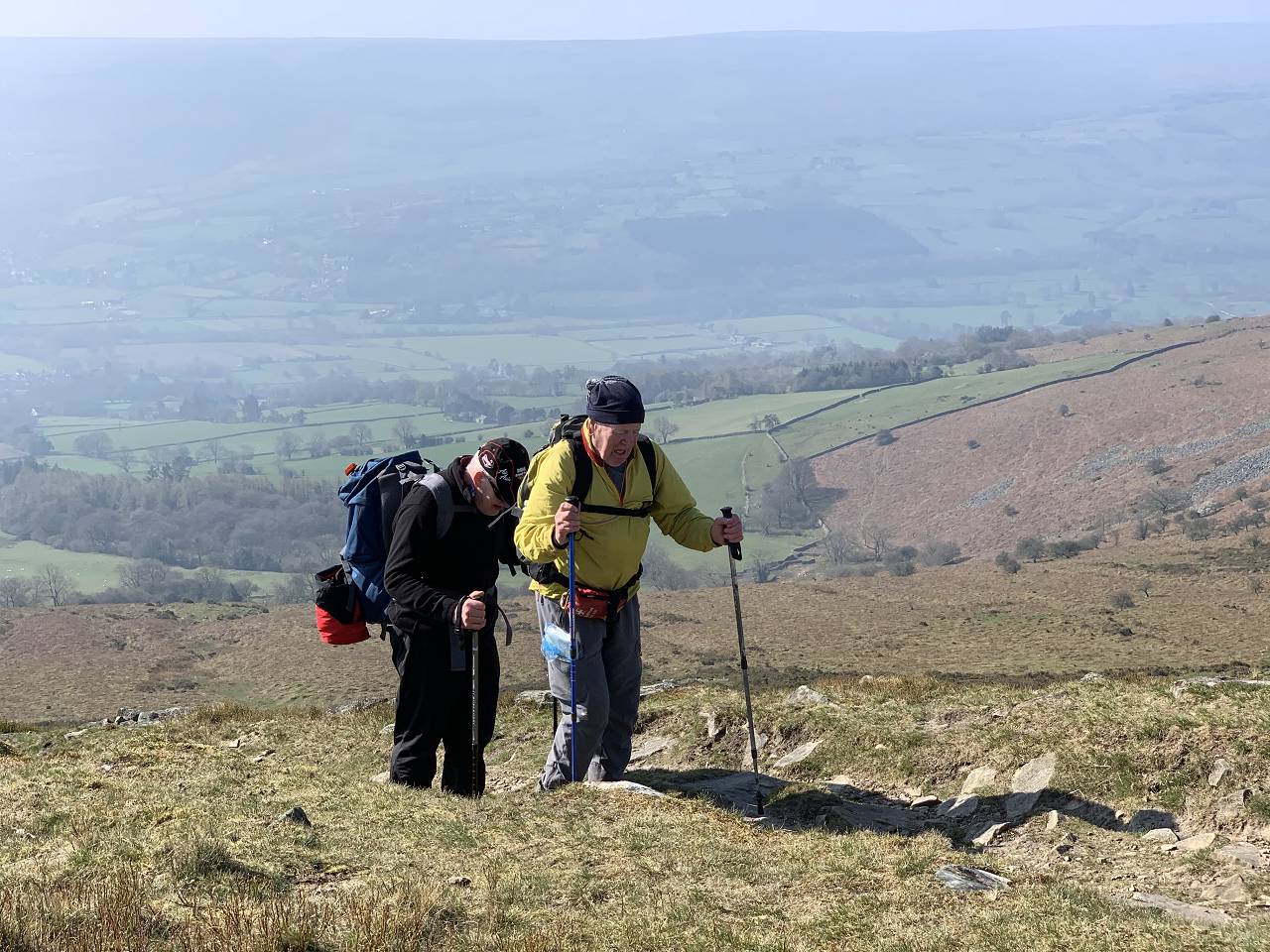 Climbing Sugar Loaf
At Pen Cerrig Calch Checkpoint
Ian, with his support team, collects his Certificate having reached the end of the Platinum Route in Abergavenny Scout Hall.
The first walkers back on each route were:
Platinum Route Alun Rees, 42 from Aston returned in 4 hours 15 minutes after the bus dropped them at Llanthony at 8:30.
Gold Route Mark Prosser, 46 from Caerleon got back in 4 hours 55 minutes.
Silver Route Rebecca Webb, 34, and Ian Hewitt, 39, from Froome returned in a time of 4 hours 5 minutes.
Bronze Route Hannah Coyle, 25, from Abergavenny completed in a time of 4 hours 41 minutes.
Photos
Lost Property
Do you recognize either of the tops or the walking pole? They were left behind at the event. If you do recognize them email threepeakstrial@gmail.com and we'll return it.

Also lost but have not yet been found:

Mobile Phone near the halls;

A pair of black gloves on Blorenge;

A pair of Ray Ban sunglasses on the road back from Skirrid;

LEKI Titanium walking pole (fold-up small).
Walkers Photos
The following walkers have kindly sent in the photos below:
Colin Cumine "Great event and very well organised! "

Charlie Haworth-Booth "Many thanks for another wonderfully organised event. We had a fantastic day! "

Mark Langley "Can you thank your colleagues for another well organised and enjoyable day. Sorting out the weather for us was a real bonus! "

Max Wiecko "Max with the Longtown Mountain Rescue Team on top of Sugar LOaf. "

Allison Perkins "What a great day! "

Andy Simpson "Was a great event and so well organised "

Kate Taylor "A massive thanks to you for organising another superb event. It's given our company a kick start to our fundraising this year. Please pass on our gratitude to the rest of your team too."

"Thank you - it was fabulous and very well organised." Wendy Tyler-Batt
WALKERS COMMENTS:
Bob Caldwell A wonderful day and a well organised event, thank you..! Phil Beaman Just a quick email to thank you and all your team for organising this years Three Peaks Trial Challenge Walk. Our party really enjoyed it and appreciate all the hard work you all put into making it such a successful event. Again; many thanks to you and all involved. Pauline Richards Great day!! Caro Russell Many thanks, it was an enjoyable day and we were so lucky with the weather. Jonathon Poyner Thanks to you and the volunteers for organising yet another very enjoyable day. We are most grateful to you. See you next year! David Hadgkiss Thanks for a great day yesterday. David Hadgkiss Fantastic event - thanks so much....!
About The Event
The Three Peaks Trial is an organised challenge walk arranged each year in March by the Cardiff Outdoor Group. Since 2010 Longtown Mountain Rescue Team provide support with marshalls on all the mountain top checkpoints.
The Walk was first held in March 1963 and was designed for less experienced walkers who wanted to test their powers of endurance and skill at map reading. It is now the oldest challenge walk in the UK.
Over the years the event has been modified so in 2017 there is a choice of four other routes. The current four routes are:
Platinum Route:This is a linear walk of about 17 miles and 5000' of ascent from Llanthony Abbey to Abergavenny over Bal Mawr, Pen Cerrig Calch and Sugar Loaf. Entry to the Platinum Route is limited to 200. Although the Platinum Route is shorter than the Gold, the ascents are steeper and navigation more challenging, hence the higher grading.

Gold Route: This is the original challenge, a circular walk of about 20 miles and 5000' of ascent, which crosses over three prominent peaks around Abergavenny in Monmouthshire: Blorenge, Sugar Loaf and Skirrid. This route is never far from civilisation yet there is no obvious route so that concentration on map reading is essential to keep to the best route.

Silver Route: This is a circular walk of about 15 miles and 4000' of ascent. It follows the Gold Route from Abergavenny over Blorenge and Sugar Loaf, then descends back to Abergavenny.

Bronze Route: This is a circular walk of about 10 miles and 2000' of ascent. The route goes from Abergavenny to the summit of Sugar Loaf, descending by a different path.
The money raised in the 2016 Three Peaks Trial will be split between the Longtown Mountain Rescue Team, the National Trust, owners of Sugar Loaf and Skirrid Fawr, for footpath maintenance and at least one other charity (charity decided November 2016).
A leaflet for the event is available,Click Here For a webcam (updated every 15 minutes) showing Blorenge Click Here
Please note that we are unable to take any entries on the day.
Raising Money for Other Causes
People are welcome to raise sponsorship for other registered charities. Please confirm with the Organizers beforehand which charity you wish to raise funds for.
SPECIAL OFFER FOR THREE PEAKS TRIALERS:Cardiff Outdoor Group (COG) organise a wide range of day walks and weekends away throughout the year in South Wales and beyond to suit all abilities: perfect training for the 3 Peaks Trial. Click Here for details. Also as a special offer for Three Peaks Trialers you are welcome to join COG at the reduced annual rate of just £7. Click Here to join COG.
PHOTOS OF THE THREE PEAKS can be found on the website of CREATIVE PHOTOGRAPHY WALES - Click Here. For participants in the Three Peaks Trial there's a 20 per cent discount on photo purchases!
Copyright Three Peaks Trial 2019